In a word, yes. Meet what some might describe as the Pax killer.
The AirVapeXS has been highly anticipated since they announced its development, and is hailed by many critics and consumers as one of the finest portable herbal vaporizers on the market. By all accounts, the Airvape XS seems to deliver across the board. This vaporizer is supposed to be one of the best for dry herbs as well as waxes and concentrates. Many have praised this high-end product both for its convenience and its performance. What's our verdict?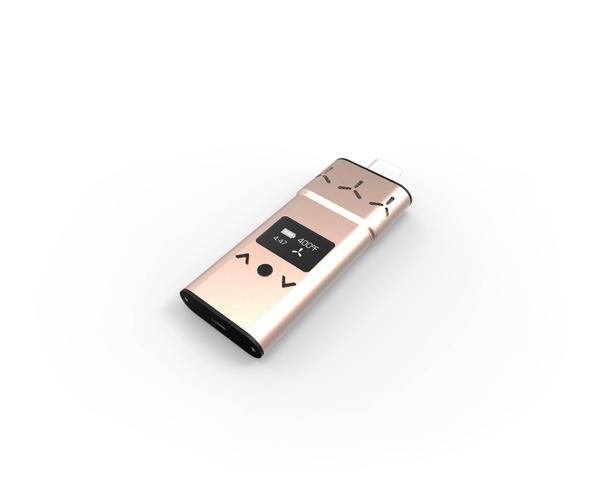 If you are on the fence about purchasing this vaporizer, then just take a look at my review below. I will walk you through all the pros and cons of my experience with the AirVapeXS so you can make an informed decision whether or not this product is right for you. In short though, this vape is a badass little piece of technology that's worth every penny!
Best For People Who Want A Discreet Design
The AirVapeXS website describes their product as "fast, elegant, thin, mighty" and we have to agree. With a size that's barely larger than a credit card, it is perfect for people who love to keep their vaping on the "down low" but don't want to compromise power and quality. The strong metal design of this product is super sleek, small, and discreet. The official measurements for this device are 4 x 6 x 2 inches. At only 3.2 ounces, this device is super easy to just pop in and out of your pocket.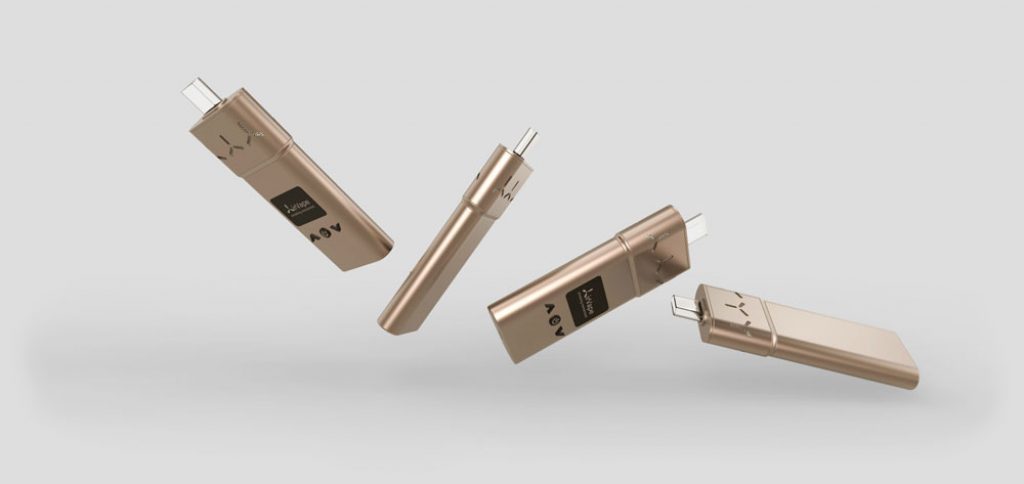 With its durable design, it will take a lot of effort (or just a strong dose of bad luck) to really break this vaporizer. If you don't feel like being all that discreet about your vaping experience, however, there is no need to worry. There are a variety of color options available for this product to express your style. These colors include mystic gray, mystic blue, red gold, and rose gold. Personally, I like the mystic gray because I take this device with me to work everyday, but if you want to show off your flair with another color, more power to you.
Beginners Welcome
Although experienced vapers will find a lot to love in this product, the AirVapeXS is really great for beginners. I say this because one of AirVapeXS's greatest features is its ease of use. All you have to do is pull the glass mouthpiece and put your herb of choice in the chamber right below. Be sure to really pack your herb in there for best results. Then all you have to do is put the mouthpiece back on, set your ideal temperature with the arrows below the display, and wait about 30 seconds before taking your first vape.
Another great feature for beginners is that the AirVapeXS will vibrate when it is ready, and it will also shut itself off after 3-5 minutes. For any beginner out there looking for a simple interface and an elegant design, you should really consider giving the AirVapeXS a try.
Battery
This product uses a 1300 mAh rechargeable battery. I had no trouble keeping track of my AirVapeXS's battery life, since it is very easy to see this on the 1.3-inch display located at the center of the device. This battery can power the AirVapeXS up to 100 volts. I was able to get about three to four vapes with a full chamber of herbs before this battery died out.
Conduction And Convection Design
One very interesting thing about this device is its heating system. The AirVapeXS uses both conduction and convection in its design. The glass mouthpiece ensures that the vapor does not come straight out of the oven and hits your throat. This makes the vapor a bit cooler, but the flavor is very rich. This dual chamber design is a quality feature, but you should expect to pay a bit extra for it. In fact, this design is probably the main reason why this product is sold on the U.S. market for $200.
Vapor Density
If you are in the market for a nice clean vape, then the AirVapeXS will suit you fine. AirVapeXS is a direct draw device. You should be aware before buying this product that you can't really get a thick vapor consistency unless you set the temperature of this device to over 380 degrees Fahrenheit. By setting the device that high, however, I felt like the taste of my herbs was significantly diminished. I like to set mine around 350 degrees Fahrenheit for peak flavor. This gives me a much smoother vaping experience, although I had diminished vapor production. Just so you know, this device can officially go from 317 degrees to 428 degrees Fahrenheit.
Some Handy Accessories That Are Included
One of the accessories that comes with this product is a leather carrying case, which is great for vapers who are always on the go. You will also receive a mouthpiece cover to keep your glass mouthpiece protected when not in use. There are also various cleaning and packing tools that help you keep your device as clean as possible when on the road.
In conclusion, here are a few pros and cons to consider on the AirVapeXS:
Pros
Very discreet and elegant metal design.
Portable and lightweight, great for travelers.
Dual chamber (ceramic and glass) gives vapers a superior flavor experience.
Very simple interface, absolutely perfect for beginners.
They offer a "return your vape" program where you send in your old vaporizer (Pax, Firefly, whatever) and get 50% off the purchase
Cons
Battery life is decent, but not great.
Doesn't give off powerful clouds for those who like heavy cloud production.
Price is a bit steep but you get what you pay for.
An incredible piece of technology
Ultra thin design
Powerful vapor production
Great value for the price
The not so good
Battery life could be improved
Where to buy the AirVape XS