Pax Labs has recently released the latest version of their popular vape, the Pax 3. The original Pax looked cool, but had some pretty big drawbacks. The Pax 2 was much improved, but still lacked some key features. The Pax 3 however marks a significant improvement upon the previous models. The new vaporizer is similar in appearance to its predecessor, featuring the same high-polish anodized aluminum body, but the company has changed the internal designs of the Pax 3 to allow for both dried herb and concentrates, something we're VERY happy about. Additionally, a few other new and unique features have been added that customers are getting excited about.
Who is this Product For?
The Pax 3 vaporizer is a great product for you if you often find yourself on the go. It connects to a compatible app via Bluetooth, and so the firmware can automatically update itself, even while you're away from home. With dimensions of only 3.87 inches tall and 1.21 inches wide, this vaporizer is small and discreet enough to carry around with you in public, unlike many of the bulkier options on the market. The Pax 3 is an ideal product for people who like to switch up their cannabis preference often, as it allows for both dried herb and concentrates.
It comes with a three oven lids – one full size for herbs, another half size for herbs, and a third one designed specifically for concentrates. If you like to switch it up, then this vaporizer is definitely for you. They packed some new technology inside the Pax as well, including an internal accelerometer which automatically shuts off the unit when you put it down and turns it back on when you pick it up.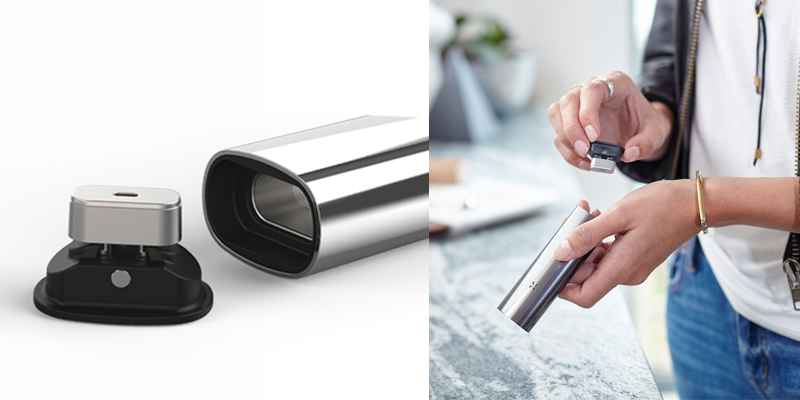 Battery
The Pax 3 comes with a 3500 mAh battery that takes a little over 90 minutes to completely charge up. This is one of the best vaporizer battery options on the market, and a serious improvement from the Pax 2's 3000 mAh power.
Heating
One of the best features of the Pax 3 vaporizer is the short heat up time. While the last model needed 30-60 seconds to fully heat up, the Pax 3 is ready to go in only 15 seconds, regardless of which oven you choose to use. You can choose from the new concentrate oven, the full size oven, or the unique half size oven which allows you to heat up only a small hit at a time if you don't want to fully pack the vaporizer.
The app
We've seen a few other vapes integrate bluetooth technology with a custom app. It's a neat feature that we love, as it gives you more control over the vape. With the Pax 3, you have a few options from the app. First, you can dial in exact temperatures and create unique heating profiles that you can use later on. It also lets you upgrade the firmware of the Pax. You can also change some things, like the LED light brightness and even play a few games – yes, you read that correctly.
Vapor Density
This little vape produces some pretty hefty clouds, thick and very flavorful. I was very impressed with the flavor especially, and felt like it delivered tasty pulls from start to finish.
Accessories
Concentrate insert
Maintenance kit
Two mouthpieces
Charging cable and dock
Two oven lids
Three screens
Blootooth compatible with the new Pax Vapor APP, which allows you to control temperature, updates, and even the color of LED lights
Pros
15 second heat-up time
Works with both dried herb and concentrates
Bluetooth app compatible
Cons
Honestly it's very hard to find fault here. If you can afford it, the Pax 3 is a top pick.
Specifications
3500 mAh battery, 90+ minute charge time
3.87″h x 1.21″w x 0.85″d
15 second heat-up
$274.99 retail price
10 year warranty