For the past couple of years, the two big dogs in the portable vaporizer industry have been the Pax and the Firefly. Both show off super sleek designs aimed at the iPhone-toting, health-conscious hipster crowd. These two are the Apple and Samsung of the vaporizer market.
The Arizer Air At-A-Glance
Battery life: 1 hour
Warranty: Lifetime warranty for the ceramic heating element; limited 2-year warranty against defects in materials or workmanship. Warranty coverage doesn't apply to the glass pieces and battery.
Weight: N/A
Size: 4.8 × 1.1 inches (122 × 29 millimeters). 6.5 inches tall with short mouthpiece. 8.75 inches tall with large mouthpiece.
Temperature range: 356 – 410°F (180 – 210 °C) with five pre-selected temps.
Price: $259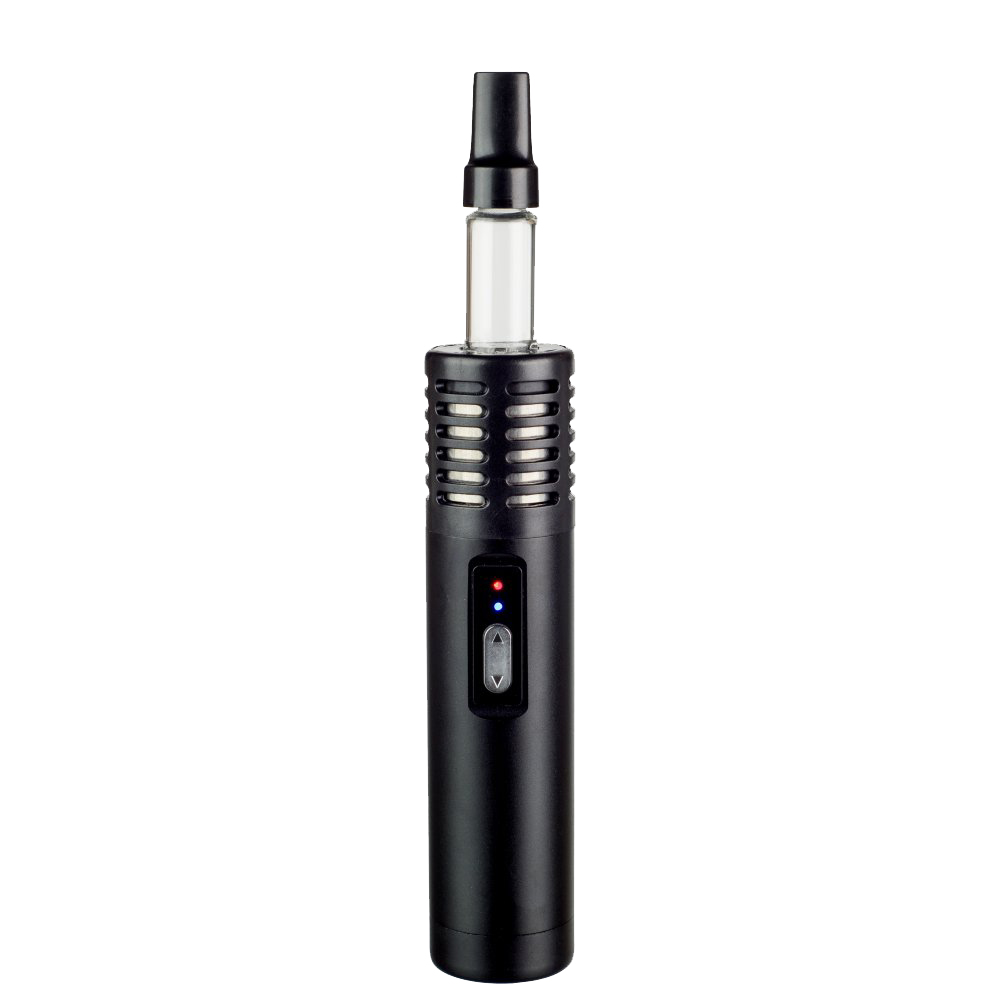 But that doesn't mean they're the only players in the game worth paying attention to. No, in fact, Arizer has been steadily improving on their own popular models. The latest rendition of their popular "Solo" model is the Arizer Air, and it hits all the right notes.
The Arizer At A Glance
Sure, it might not look as aesthetically pleasing as the Firefly or Pax, but its industrial chic still manages to turn a few heads. This powerful little unit isn't quite as small as the Pax 2 or Firefly 2, but it packs quite a punch while still fitting inside your jeans pocket (albeit with a slight bulge). It's also incredibly intuitive to use, with a simple yet effective design that delivers big clouds.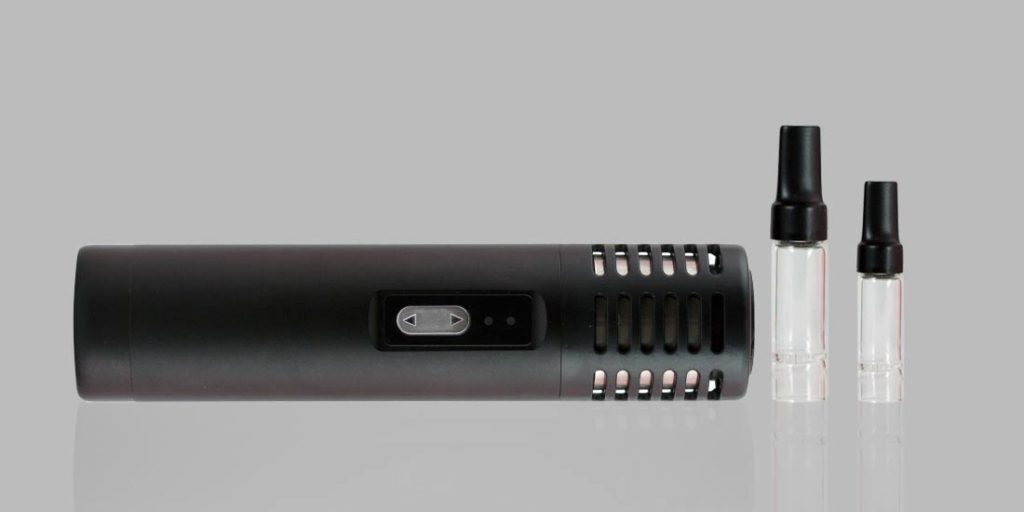 Heating
The Arizer Air vaporizer has five temperature settings, which you cycle through with up/down arrow buttons. Colored LEDs let you know which one you're on, from blue (356°F/180°C) through white, green, orange and red (410°F/210°C). It takes a couple of minutes to warm up all the way to red. There's no temperature readout, but one of the five options should get you within spitting distance of your ideal heat, and the color coding has the advantage of being something you don't really have to think about.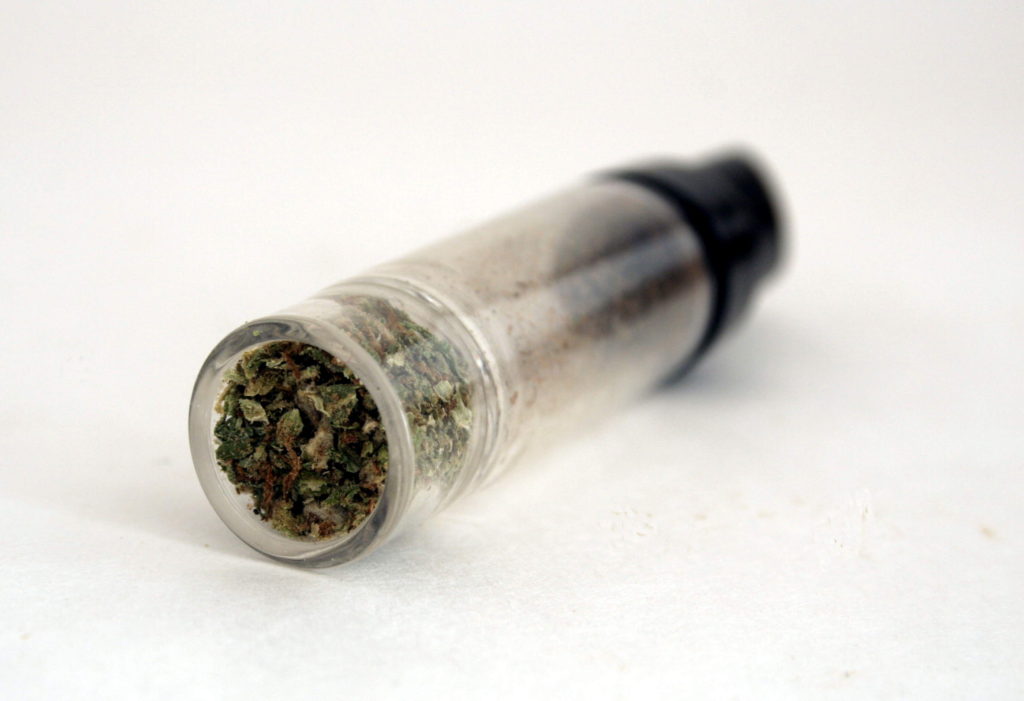 Battery Life
The Air uses standard 18650 Li-ion batteries, so it's easy to keep a few spares on hand. You can buy extras for cheap on Amazon if you want. You've got around an hour before you'll need a new one, and that's only if you're away from an electrical socket, since you can still use the Air while it's recharging.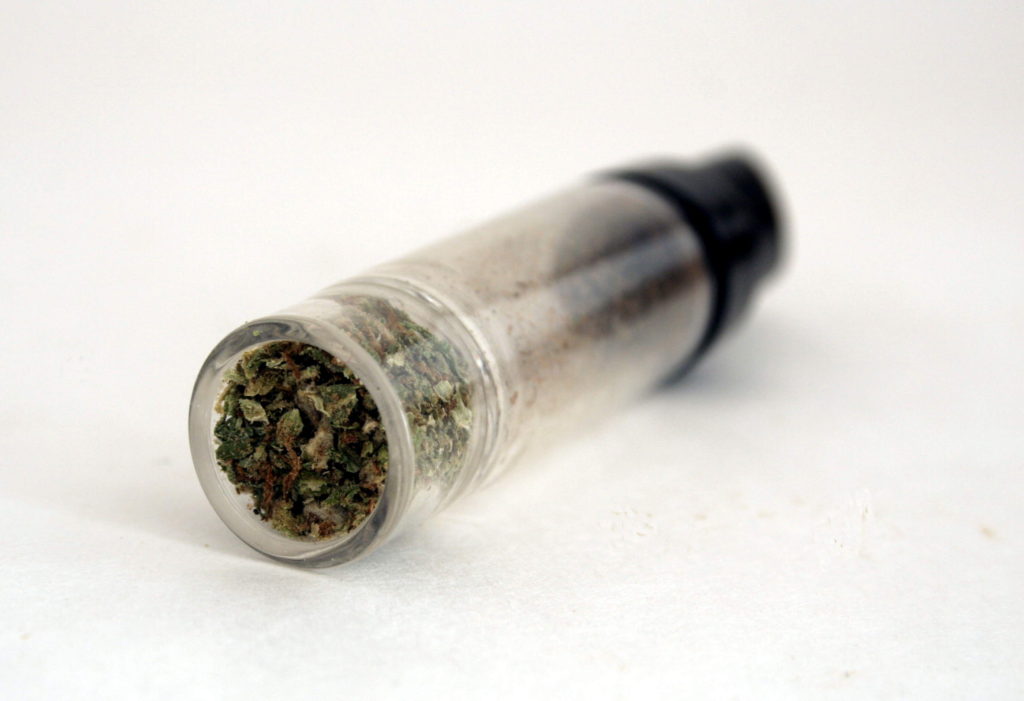 Accessories
The Air uses straight glass mouthpieces, and the unit comes with two of them, plus two silicone stem caps. There's also a glass 'aroma dish' to which you can add essential oils if you're in the mood for some aromatherapy. And in case you're wondering if that's code for something else, it isn't. The silicone sleeve included in the package not only protects the Air from bumps and falls but also helps it maintain the correct temperature. You also get one battery, a charging adapter, and a carrying case.
The good
The Air is a huge improvement over the already awesome Solo. It's lighter, stronger, and built better. While it may use a heating element that's 50/50 conduction/convection we saw no decrease in flavor. Just the opposite! This thing brought out the true terpy goodness in the Sour Diesel we tried.
For the price you'll have a very hard time finding a better option in the portable vaporizer market.
Negatives/Downsides
Because the mouthpieces are glass and stick straight out of the Air, it's not really advisable to keep the vaporizer in your pants pocket with a mouthpiece attached. They don't add a lot of length, though, so if you're toting a purse or wearing a jacket, you shouldn't have a problem with portability.
The biggest issue may be the two-minute heating time, which is a lot more than the Firefly's speedy fifteen seconds and may be longer than you'd care to wait for a puff under some more discreet circumstances. Temperature also seems to go down more quickly in the Air, so you may have to wait for five or ten seconds between hits for it to return to optimal.
Where to buy
Simple yet strong
Smart buy
Coming in a little cheaper than the Pax, the Arizer Air makes a smart buy. It produces slightly thicker clouds and it's very easy to clean. Sure it might weigh a few grams more, but it's hardly noticeable.
Positives
Multiple mouthpiece attachments
Simple to use
Easy to clean
Negatives
Slower time to heat
Mouthpiece stems can be inconvenient
9.1
No frills design boasts thick vapor and quality performance