I'm sure many dedicated vapers around the world have either heard of or tried some of DaVinci's vaporizers before. While the DaVinci Ascent may be their most popular model, today I want to tell you all about the DaVinci IQ Vaporizer that was just released at the end of October.
This portable herb vaporizer is only 1.65''W x 3.5''H x 0.9''D. This device is so tiny and light (5 ounces) that you could easily pop it in your pocket. Better still, the company offers you a nice 10 year warranty, giving your peace of mind behind the $275 price tag. Ok, after dropping a price like that, I know you must be thinking, "wow, for a price that high, is the IQ really worth it?" Well, all I can say is, keep on reading. My review of the lauded IQ follows below.
Strong, Sleek, and Small
So, as you could tell from the dimensions, this device is very small. This is perfect for people who travel a lot. I found that it was very easy to grip this device when using it, and overall I liked the discrete design. I especially liked the LED light display on the front, which is composed of 51 separate LED light bulbs in a grid-like fashion. If you like to look at a ton of information on a screen, well, maybe this design won't delight you, but I found it both unique and stylish. The IQ comes in a few different colors, including stealth (black), copper, gunmetal, and blue. As you could tell, all of these colors are very low key, so if you want a flashy device, you'd better look somewhere else.
A Little On The Smartphone App
One of the most important things about this device is the DaVinci app developed for the IQ, so let me tell you all about it. Now, you can use this device with or without the smartphone app, but honestly, why would you buy this product if you had no intention of using the app? The app DaVinci set up for this device is not just a gimmick; it really made the whole vaping experience more enjoyable and convenient for me.
You can set all of your information on the temperatures you want for your vaping session on your smartphone. Otherwise, you could use one of the four pre-set modes DaVinci put on the app. Then, when you are ready to vape, just choose one of the four customized "smart paths" and your IQ should be all set to go. I had no difficulties using the app on my phone. The user interface was very clear and easy to follow. You can set these "smart paths" for 10-minute intervals at whatever temperatures you want. After the 10-minutes, the device will automatically vibrate and stop.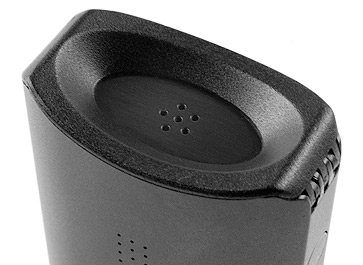 Of course, you can set shorter times if you want, and you can keep track of your session by watching the graph on your smartphone's screen. This was definitely one of the highlights of the IQ, and perhaps one of the main reasons for its somewhat hefty price tag. However, I want you to know that this app is the real deal. If you are into customizing your vapes, then this IQ app with Bluetooth technology will satisfy your desires.
Battery
The DaVinci IQ Vaporizer comes equipped with one replaceable 18650 battery. Officially, DaVinci says this battery life lasts 1.5 hours, and it takes about 3 hours to completely recharge. When I used this device, however, I only got about 70 minutes of quality vaping time out of it before the battery started to wane. Of course, I should note that I was using this vaporizer generally around the 320-340 degrees Fahrenheit range, so that might have accounted for why I had a shorter battery life.
Conduction Heating With Zirconia Design
This is a conduction heating device. It takes 16 second to get up to 230 degrees Fahrenheit. As I alluded to earlier, you can get this bad boy up higher if you want to and 430 degrees Fahrenheit is pretty much the maximum for the IQ. During one of your vaping sessions, you can easily up the temperature simply by holding the power button. This will enter you into what is called "boost mode," and you'll see the LED light turn into arrows pointing up. As long as you hold down this button, the temperature will go up, up, and away. This is a very convenient on-demand feature that I really enjoyed.
I had no problems with loading the ceramic oven inside, however you will really need to ground your herbs fine and pack them in tight. The vapor path inside this device is ceramic zirconia. Yes, like cubic zirconia, the stuff you might associate with fake diamonds. I didn'tknow much about "zirconia" before studying this device. Many people describe zirconia simply as "ceramic steel," since it has the toughness of steel, yet the feel of ceramic. Zirconia is one of the toughest ceramics out there, and it definitely does a great job at heat insulation. By the way, the mouthpiece on this device is also made of zirconia.
Amazingly Thick Vapor Density For A Portable Device
I had no problems with the speed or quality of the vapor produced by the IQ. I know a few other vape critics say the quality of the flavor in a glass rig is greatly enhanced, however I have yet to try that. I will say, however, the quality of this vapor couldn't possibly get worse with a rig, if you're into that. The vapor was very thick, and this was one of the best conduction vapes I have experienced for a portable device.
One minor negative I will note is that the oven seemed to get stained a lot faster than usual using this vaporizer. If you are concerned at all about the overall aesthetics of your device, this might be a slight issue.
Accessories
You will get a little accessory box with your IQ that includes a micro-USB charger, cleaning wipes, a cleaning brush, and a chamber tool used to clean out the air path. There are a few handy accessories available for purchase to enhance your IQ experience. In terms of chargers, DaVinci offers a USB AC adapter for the UK, a USB AC adapter for the USA, a USB AC adapter for Australia, and a USB Car Charger. There's a 10mm adapter and even a nice keychain tool on the market. Also, DaVinci offers water adapters between 10mm to 14mm.
OK, enough of my rambling. Overall, I think the IQ is one of DaVinci's finest products, and I would recommend this device for anyone looking for a great portable device to put this high up on your list to Santa Claus this year. Here's my final pros and cons list of the DaVinci IQ Vaporizer.
Pros:
Amazing app with wonderful Bluetooth connectivity.
Great vapor flavor and density
Sleek portable design with original LED light display.
Easy to clean and load.
Zirconia design makes this device very safe even on high temps.
"Boost mode" feature easy to use and convenient.
Cons:
I noticed slight staining from the oven.
Not the cheapest unit
You can only get a really high-quality vape with finely ground dry herbs packed in tightly.
On par with the best of 'em
The Davinci IQ is easily on par with the Firefly and Pax. With a super slick, modern design, powerful heating element, and bluetooth connectivity you get everything you'd expect in a high end vaporizer. The biggest downside? You can't use concentrates with it.
Where to buy the Davinci IQ