Overview of the Plenty Vaporizer?
The Plenty comes with a strong pedigree. Storz and Bickel, a German company, is known for their high quality vaporizers. Their Plenty Vaporizer is one of the most popular vaporizers on the market. It's actually a semi-portable vaporizer, and while it looks a little strange with its futuristic design that resembles some sort of mechanics tool, but overall it's a reliable, well made, user-friendly vaporizer that can be used with dry herbs, wax, and concentrates.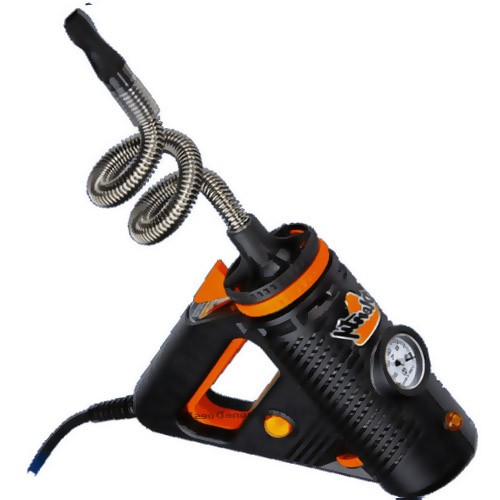 The Best Home Vaping Experience
The Plenty Vaporizer is not completely portable due to the fact that it needs to be plugged in, but it is compact enough in size. This vaporizer is only 1.5 pounds and 7.87×6.1×2.36 inches, so we could easily transport it anywhere. Sadly the Plenty vape has no rechargeable batteries and needs to be plugged into a power source; so there is no limit on how long we can use it.
Heating
This vaporizer heats up with full hot air convection combined with conduction. It takes 2-3 minutes for the Plenty Vaporizer to heat up to temperatures from 266F to 395F. The temperature needed depends on what herb, wax, or concentrate you are vaporizing. A helpful list of the temperature settings is included in the owner's manual. The Plenty Vaporizer also comes with a stainless steel cooling coil to make every draw more comfortable and enjoyable.
Vapor Density
The herb chamber holds 0.5g to 0.75g of finely ground herbs. The chamber is wider than those in most vaporizers, so it burns the herbs evenly, creating a thick, potent clouds with every draw. This thing puts out a lot of vapor! The liquid pads can be used to hold the dry herbs in place, so they vaporize evenly.
Accessories
The Plenty Vaporizer comes with a nice amount of accessories:
-1 Dry Material Filling Chamber
-1 Mouthpiece
-3 Normal Screens
-2 Tubing (Short)
-2 Tubing (Long)
-1 Cooling Coil
-1 Liquid Pad
-1 Dry Material Grinder
-1 Instruction Manual
You can purchase both replacement parts and accessories online.
Specifications
-Battery Life and Capacity: This vaporizer does not contain a battery.
-Dimensions: 7.87×6.1×2.36 inches
-Weight: Approximately 1.5 pounds
-Time Required to Heat Up: 2-3 minutes
-Retail Price: $299 including taxes and shipping
-Warranty: 3 years of manufacturer warranty
Pros
The vaporizer is made from durable high quality materials.
The size of the chamber is larger than most other vaporizers, which allows for longer sessions.
Design is lightweight and convenient to use.
Produces large amounts of aromatic vapor.
Cleaning is easy.
Cons
The vaporizer needs to be plugged into a power outlet.
Some components heat up, creating burn hazards.
Some people do not like the appearance.
Cost
The Plenty Vaporizer retails for 299 dollars (though prices are usually a little lower now). It comes with a very good 3 years of warranty from the manufacturer and the replacement parts mentioned above. It might seem like a high price, but you won't regret this purchase.
Bottom line, the Plenty Vaporizer is one of the best vaporizers on the market. While its appearance might not appeal to everyone, some will surely like its funky design, its performance will not disappoint. The Plenty Vaporizer is the only vaporizer in its price range that produces such an amazing quality of vapor. Whether we want to vaporize herbs, wax, or concentrates, the Plenty Vaporizer is perfect for you and I.
A powerful and well made vape
Excellent
The Plenty vaporizer makes a smart choice if you want a sturdy, well made vaporizer that delivers a Volcano quality experience minus the price.
9.2
Volcano quality without the price