The Vapexhale Cloud Evo, has been highly anticipated. The internet went nuts and threw their money at this item when their IndieGogo campaign launched, and now many cannabis connoisseurs are getting the vape that they deserve and need. If you're looking at buying one now, you'll appreciate they've worked out a few kinks and improved on some basic parts of the design since their initial launch.
Overview
The first thing that I noticed about this was just the fact that this thing is beefy. Definitely not very portable. It's 8 inches tall and it has a 3-inch square base. Not a big deal or anything, and in fact it's nice knowing it has some sturdiness.
Then there's the glass tube protruding from the unit, and that's what really gives it extra height. The bottom is made from stainless steel, and despite the overall size, it's shockingly lightweight. Don't get me wrong though, the design is very sleek and kind of cool to look at, the sort of thing you'd be happy to leave on your shelf.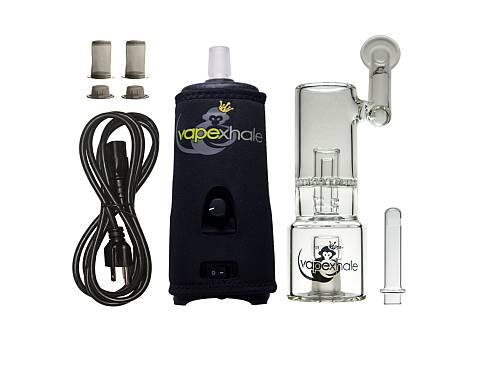 Heating
The Cloud EVO needs about two or so minutes to heat up when you first turn it on, and then it flashes green when it's ready. If you turn it on and then get a call from your mom, she'll be able to keep you on for about 30 minutes before the CloudEvo starts flashing red and green lights and goes on standby. The standby is a much-appreciated safety feature, but those that like their vapes to stay on all day may find it a minor inconvenience.
The heating element is wrapped by ceramic which heats the bowl nice and evenly. Some don't like it when the air comes into contact with the heating element of a vaporizer, but I don't think there's anything to worry about. A dial operates the heating range and the clock estimates the temperature so you can choose the right setting for your needs. At 12 o'clock it's registering 350 degrees and at 5 o'clock it's at around 500 degrees. Remember, these are estimates only, so if you're looking for a vaporizer with exact numbers, this might not be the best choice.
Another thing worth mentioning is the neoprene sleeve you'll see covering the exterior. The Vapexhale gets pretty hot and this helps keep it cooler to the touch.
What's included
The Vapexhale Evo has an all glass vapor path and comes with various glass "hydratubes". The Hydratube offered comes with a lot of draw resistance and diffusions. If you're fancy and have your own glass at home, however, then there are kits available for that. Each Hydratubes offers different diffusions and tastes, so you aren't going to be stuck with one option for the full line.
The Turbine Hydratube is going to provide the best flavor and the best flowing bubbles are going to come from the Hydrabomb. If you care more about diffusion, then give the HydraHoneyComb or Sidetree a shot. Don't worry if you already have a glass piece that you like – you can use your own waterpipe with the Evo, which connects via a standard 18mm male glass piece.
Cleaning
Cleaning, for me, is always the most tedious thing. Maintenance with this one isn't so bad, though. I've gotten into the habit of taking brushes to wipe out and around the herb basket after each session. I would say that I soak it in ISO for 10 minutes every 15 sessions, but it's really more of a give-or-take. You do have to let them dry completely before using them, though.
Overall value
With all things comes a price. The CloudEvo is going to set you back about $400 or $450, and the Hydratube will be $150. So this isn't a cheap vaporizer by any means, but you get what you pay for. And what you get is a rock solid, hard hitting vaporizer with a bong mentality.
Warranty
It comes with a new limited three-year warranty that covers against defects in the materials or manufacture of the item in normal, everyday use (as opposed to weird, unusual use, like using it on Mars or whatever). There's also a 3 Year Platinum Warranty that covers accidental breakage for one time within the warranty period (Read: accidental, as it not on purpose. Don't throw it against a fence or your mom or a truck). This warranty costs $149 and will take care of the unit and the Hydratube, plus it covers the shipping. You do have to register within 90 days to receive the service, so do it immediately and not just when you experience an issue (so don't be an idiot and put off the registration). I didn't run into any issues, but various posters on Reddit and other forums have said the VapeXhale team is super helpful with any issues.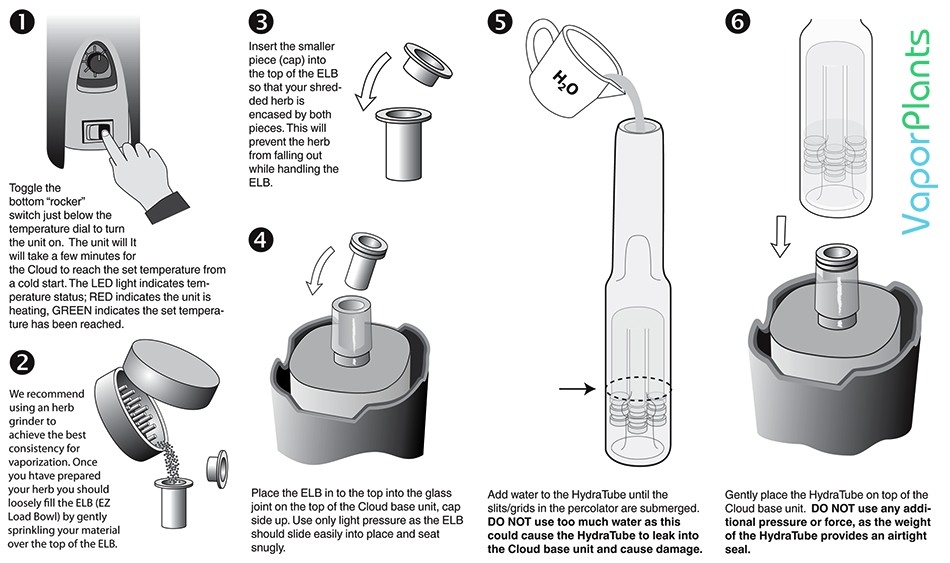 Final thoughts
No doubt, the Evo is a badass device that's going to give you fat clouds of great tasting vapor. It really is durable despite the risk of breaking the glass tubes, but slightly on the large side and perhaps not ideal for passing around with a group of friends. Especially if they have butterfingers.
The design is very sturdy and fairly aesthetically pleasing however. It works equally well with dry herb or concentrates which is a plus. The CloudEvo really is raising the bar for vaporizers with the power, design, and thick vapor delivery. The Vapexhale CloudEvo is a great choice for someone who wants to get rid of their bong and upgrade to a healthier desktop model without compromising the ability to take giant rips. If that sounds like you, then I'd recommend dropping your cash on the CloudEvo over something like the Volcano or Aspire . The vapors and the experience it gives are really going to bring you to cloud nine.
Powerful unit delivers thick clouds
Positives
Very thick clouds
Water filtration cools vapor
Super efficient
Negatives
Delicate, easy to break
Not very noob friendly
Better for solo use